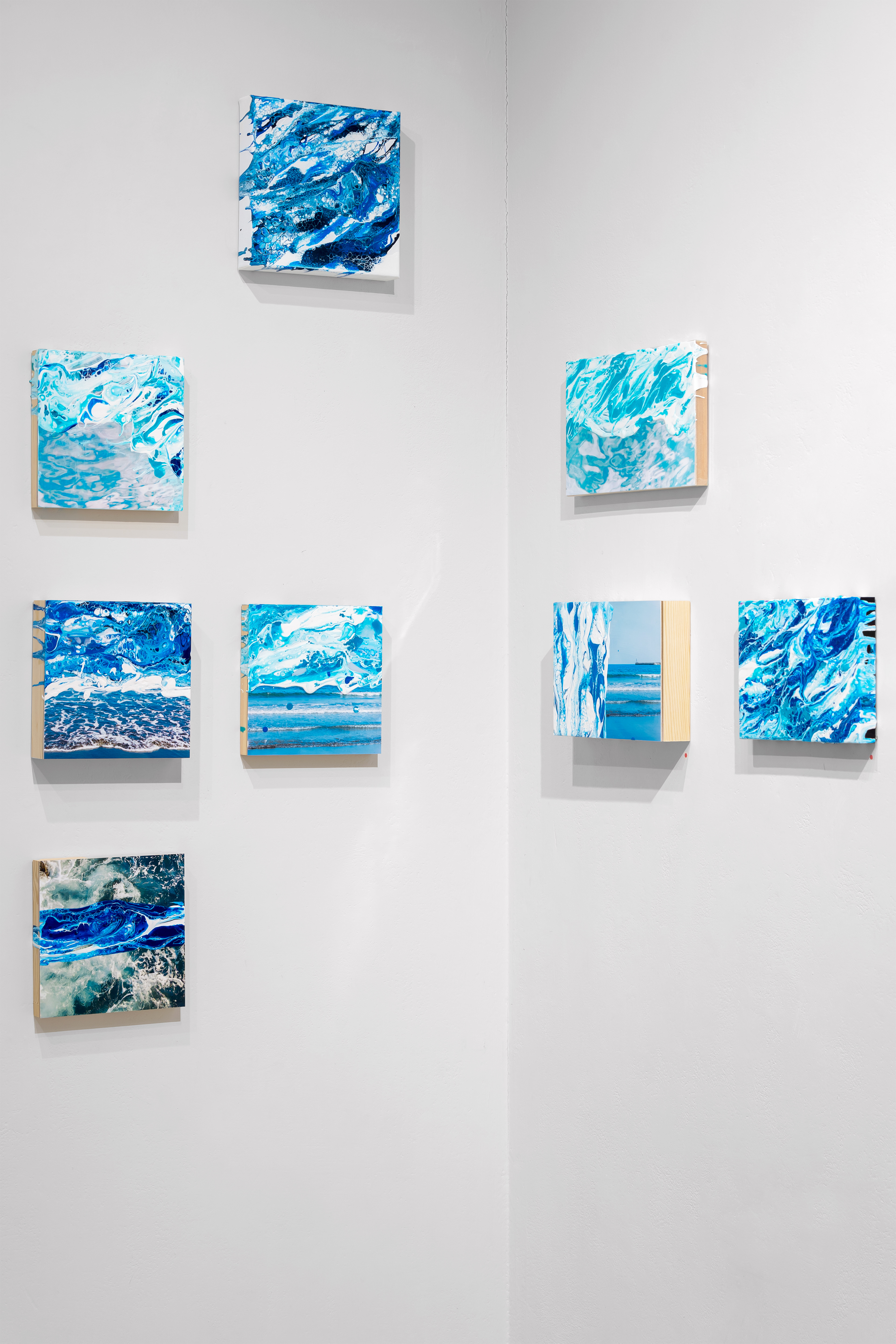 写真、アクリルペイント、木製パネル / 16点 / 2022年
Acrylic on Photograph, Wood panel / 2022
アクリルペイント、キャンバス / 6点 / 2022年
"Paintings for Sea Moments"
写真の上にペインティングをした作品シリーズ。
Instagramなどでポーリングアート(フルイドアート)を見つけ、 
絵の具の作り出す現象がとにかく格好いいので自分でも遊んでみた。
 一通り遊んだ後、自分の作品につなげるにはどうしたら?と考えた。
絵の具だけだったら世界中にこれをやっている人がいるので、
 ということで、絵の具が泡・波のような自然現象にそっくりだったので
自分が撮った写真に重ねてペインティングをした。
絵の具の現象と、写真にうつる自然現象とを見まがうようなものを目指した。
A series of paintings on photographs.
I found PoURing Art AND Fluid Art on Instagram and other sites
and The phenomenon created by the paint is just so cool that I played with it myself.
 After playing with it, I wondered How can I connect this to my own artwork?
there are people all over the world doing this.
 What is unique to me is moving image and photography.
 So, since the paint looked just like natural phenomena like bubbles/waves
The painting was overlaid on a photograph I had taken.
for example, I used colours close to the sea in the photo,
The aim was to create something that could be mistaken for the phenomenon in the paint and the natural phenomenon in the photograph.
Exhibition at Shinjuku Ophthalmologist Gallery, Tokyo
© 2022 YUKI TSUCHIYA / yukichico